Bike Grab
Motorcycle Wheel Chock and Parking Stand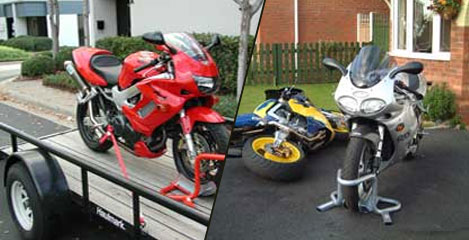 From the heaviest Harley Davidson cruiser to Japanese Sportsbikes, even the Giant Triumph Rocket 3 is safe and secure in the BikeGrab wheel chock. It is widely used by race teams and motorcycle manufacturers worldwide and offers unprecedented security for your motorcycle when parked up in the garage, outside on the driveway or even when transporting the bike on a trailer or in the back of a van. When used for trailering the bike is free to float on its own suspension just as if it where being ridden, this eliminates any possibility of seal damage that can arise when the forks are compressed using traditional strapping methods to hold the bike in place.
Don't let this happen to you!!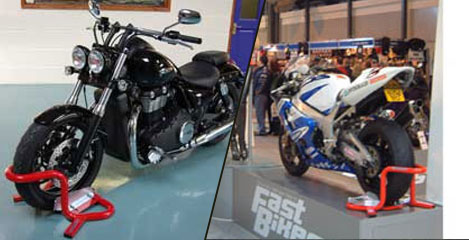 BikeGrab has a Vice like grip that will keep your motorcycle in a vertical and Safe position enabling you to carry out repairs, maintenance or detailing with the peace of mind that the bike cannot be accidently knocked over! It works as good as any centre stand for stability. This wheel chock is completely universal and can be used on both the front or rear wheel to suit your needs and with its own built in easy to use measuring system from 60 to 190mm it can quickly be changed to any tyre size required.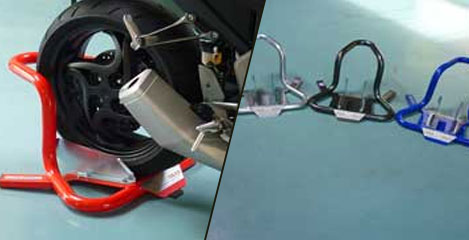 Just ride the bike into the BikeGrab get off and walk away, If using on the rear wheel you just drive the bike out. It's that simple! (see Youtube video) Not only do we guarantee our British made products for Life, we also offer a stunning selection of colours in Red, Blue, Silver & Gunmetal to compliment your bike.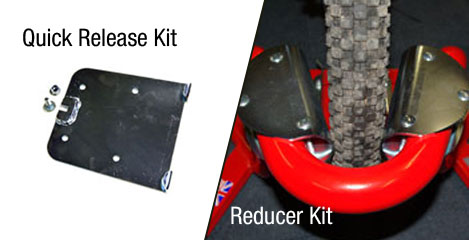 The BikeGrab is also an invaluable piece of equipment when it comes to using our Eazyrizer Lifts and will simplify the task immensely! BikeGrab can be used freestanding or bolted down if required and for this we offer the Quick Release Kit to make fitting and removal a simple job that can be completed in just seconds. When being used on tyre sizes below 120mm it is neccessary to use our Reducer Kit.
Bike Grab is Your Personal Assistant when you need that extra helping hand working on your motorcycle!