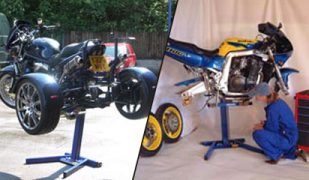 Unparalleled 360° access
Leaning across these awkward and heavy table lifts while working on the bike is hard on your back and you just cannot get to the underside or the bike for cleaning at all?? Now with the Eazyrizers You Can!
Imagine removing a wheel without bending, Imagine how you can remove both wheels PLUS the front forks AND the rear swing arm ALL at the same time and in Total Safety, Now with Eazyrizer You Can!
The lifting height is to standard workbench and the axles will align to an average person's waistline, Changing tyres every few thousand miles a sports bike owner will pay for the lift quickly and your dealer would rather see you with just the wheels than the bike plus it just has to be safer at home on your EazyRizer.