Strong Arm Harley Davidson, Cruiser Lift, Safer than a center stand!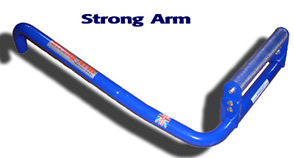 Simply the Fastest and Safest way to lift any Harley Davidson motorcycle in just seconds for FRONT or REAR Wheel Removal cleaning or for the winter park up taking the load of the bikes tyres and suspension. Strongarm will hold your bike safe in a vertical position while you attend to the detailing and general maintenance and it will also work with any other flat bottomed "Twin rail frame" cruiser. You simply place the Strongarm under the bikes frame in the desired position for front or rear lifting and apply a slight pressure down on the arm then in a jiffy your bike is off the floor, Its that easy!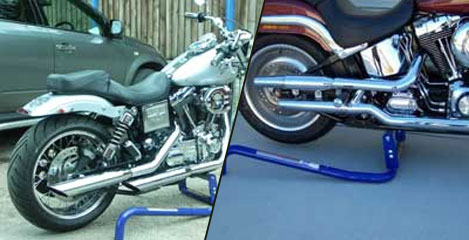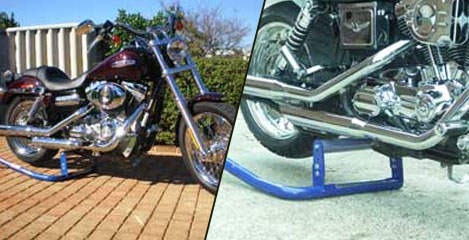 Strongarm is a lever actuated design that makes it a single handed and effortless task to lift even the heaviest bike, It is fully adjustable to take standard height and even lowered "Chopped" machines plus it's wide enough to handle Baggers too! The unit very attractive and constructed in heavy gauge 45mm diameter steel tubing to very high standards plus it has a heavy PVC sleeve on the lifting rail for Total Protection of your bikes paintwork, we know how expensive these bikes can be!! Strongarm is your personal assistant and it weighs just 6kg.