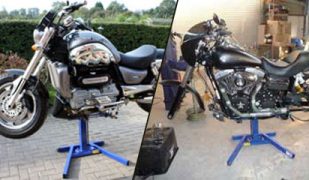 BIG BLUE has amazing versatility right through the Harley Davidson range to the Triumph Rocket 3 & Honda's massive 1800 Gold Wing
It really does not matter what the machine is because Big Blue's design allows you to handle Super Bikes, Retros, Harley Davidson and Customs, Classics, Off Roaders, Quads, ATV's, Trail Bikes and Scooters.
The Internationally patented design includes options to lift any style of bike totally Wheels Free and in every case the bike is firmly clamped to the lift to ensure total safety for you and the machine.
There will never be any metal to metal contact with your bike as all lifting surfaces are protected with industrial quality insulation pads. We too want to keep your bike looking pretty!
All Harley Davidsons including the Dyna Glide will use our standard Beam Mount set these will also the method used for any machine with a Dual Tube (Cradle) design frame.
Adjustable over a 2-foot span, the beam mount system allows you to optimize the pick up points to the frame and once secured the bike can be lifted and stored safely even over long winter periods, The "Big Blue" has slightly larger dimensions than "Original Red Bike Lift", but still consumes no more floor space with a bike lifted than a bike resting on its side stand.